The World's Largest and Longest 3D Street Art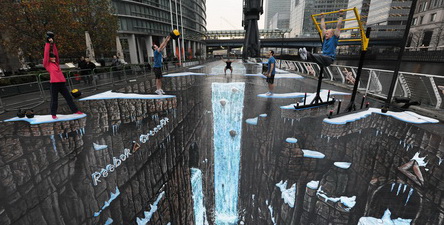 As part of a promotional campaign for Reebok Crossfit, street artists 3D Joe and Max created a Guiness world record beating piece of Street Art in both length and size, picturing a chasm that goes all the way down to the centre of the Earth.
This was created in London's West Inda Quays as a good piece of PR for Reebok's Crossfit set of gym equipment. Now you can do pull ups and play catch with medicine balls over the gates of Hell. The piece measures in at 1,160m2, a new world record, and took over 7 days to complete. The effect is fascinating: take a look at the video below for the building process and end result.