Facebook Takes Clickjacking Suspect To Court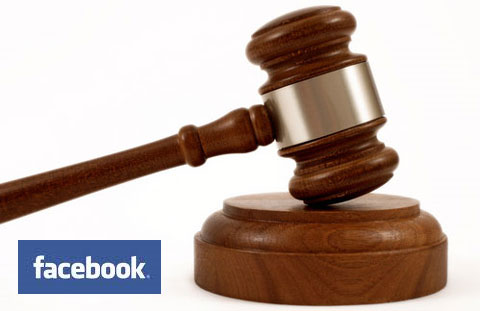 Ever clicked on a Facebook link and found it shared to your profile, projected to your reems of friends without your prior permission to share said link? Clickjacking has been a rather nasty thorn in the sides of many-a-user of the social network, and Facebook aren't going to take it anymore, as they take Washington-based marketing company Adscend Media to court over accusations of unwanted spam-causing practice.
This comes at a rather big time for the service, as a possible initial public offering (IPO) of a rather tasty $10 billion is on the cards for as early as this coming Wednesday, if the Wall Street Journal are correct in their report. The last thing Facebook need at a time of generating stock buyer interest and trust is another privacy scare, so this is probably a good direction for them.
"Security is an arms race, and that's why Facebook is committed to constantly improving our consumer safeguards while pursuing and supporting civil and criminal consequences for bad actors." Facebook general counsel Ted Ullyot commented in a post on Facebook.
The act of clickjacking is usually illicited via an initial lure of something provocative, too-good-to-be-true or something along the 'hyper-real' train of thought. The reason why it's shared instantaneously as you click the link is because the "like" button is coded into the link itself, meaning that you have no optionnal choice as to the sharing of your information to the page, and the sharing of its information on your profile.
"We don't 'like' schemes that illegally trick Facebook users into giving up personal information or paying for unwanted subscription services through spam," Washington State Attorney General Rob McKenna said during the press announcement of this lawsuit. "We applaud Facebook for devoting significant technical and legal resources to finding and stopping scams as soon as possible – and often before they even start. We're proud to join forces in order to protect Washington consumers."
The Washington Attorney General's Consumer High-Tech Protection unit alleged that Adscend's clickjacking practices has paid the company generously: about $1.2 millon each month. But it's not just the one-sided battle, as the aforementioned company are in strong denial of the claims in a statement of their own.
"At no time did we engage in the activity alleged in the complaints. Adscend Media will provide a vigorous defense against these false claims," the company comment strongly.
"Adscend Media strictly complies with its legal obligations under federal and state law. We are undertaking an investigation to determine whether any of Adscend Media's affiliates engaged in the activity alleged by the Attorney General's office and Facebook. If they did, we are fully certain that the activity was conducted without the company's knowledge."
We can't help but see the convenient timing of this by Facebook, maybe as the company's IPO is quickly, we'll see much more of a fight from the social network over possible privacy issues and spam clutter.
Source: Facebook, Adscend media