Scribblenauts Unlimited Review (PC Version)
After being out for almost four months in America, word-based puzzle game Scribblenauts Unlimited is finally localised for the good old UK, out on PC, Wii U and 3DS. As a long-time fine of the original Scribblenauts for the Nintendo DS, I have eagerly awaited this game's release. Now that it's here, is it worth the wait? Ultimately, yes, but I can't help feeling the game isn't everything it could have been.

For those who don't know, Scribblenauts is a game in which you solve puzzles by writing things in a notebook and have them appear before your eyes. Need to get a cat out of a tree? Write "ladder" and one will show up. Or "lasso" or "lumberjack" etc etc. The original DS was praised for its staggering number of objects available, and Scribblenauts Unlimited has expanded on that, as well as added the option to create your own items and share them online.
This time round there is actually a plot. Maxwell's parents were legendary adventurers who settled down and had 42 children - all of whom seem to be roughly the same age, poor mum - and they gifted Maxwell with a magical notebook that could bring any object to life. A spoiled and bratty child, Maxwell used the notebook to play pranks, until one day he angered an old man who, much like the witch from Beauty and the Beast, decided that people besides Maxwell also deserved punishment for his transgressions.
Max's sister Lily is cursed, and slowly turning to stone, and in order to save her Maxwell must gather Starites by doing good deeds across the world. This takes the game from having no plot to a "save the girl" plot which is somewhat disappointing. You are able to unlock Max's siblings as playable characters, but they are all brothers. At least so far. I'm a good ways through the game and don't yet have an option to play a female avatar.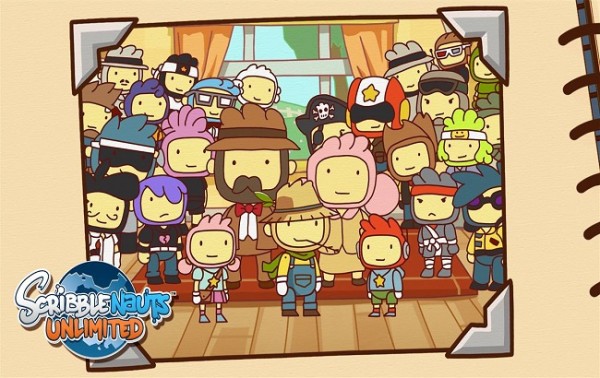 As for the game itself, the controls are considerably tighter than the DS games, which is great as they were among the worst complaints of those titles. The notepad, with its countless nouns and adjectives with which to combine them, mean you can create some truly whacky things - but this aspect is sadly under-utilised in the puzzles themselves.
The game is a touch on the easy side, and I personally am missing the hard difficulty "solve each puzzle in 3 different ways" mode that the original DS title had. Oftentimes I really try to solve puzzles in a bizarre and unexpected way, only to eventually concede and go for the obvious choice. In this way, a lot of the puzzles feel like a step down from previous titles.
To add to that sting, Scribblenauts Unlimited lacks a level editor. The simplicity and ease of most of the base puzzles could have been alleviated with the ability to create and share your own levels (something possible on the DS) but this time round the feature is just gone, despite the PC and Wii U being perfect platforms for it. I really can't understand why they'd ignore that opportunity.
The game's difficulty and creativity is a little disappointing, but ultimately it still oozes with that unique
Scribblenauts charm, and is always a great gaming choice when you need calming down or cheering up. Without a level editor the asking price of £22.99 feels a little steep, but should it ever be reduced in price I wholly recommend adding it your library. 6/10