Next Generation 'Xbox One' Announced
After much hype and speculation, Microsoft has officially unveiled their next generation console, the Xbox One. Don Mattrick (pictured) made the announcement to a huge round of applause, planning to make it the 'All-in-one' system in your living room.
Activated by simply saying "Xbox On," you can navigate the Windows 8-esque interface by swiping and talking to the next generation Xbox Kinect. The design of the hardware is...interesting to say the least! The design is rather like a cross between a PC tower and Virgin Media TiVo box.
Live TV control is also controlled via Xbox, integrated into the system itself, along with it's various forms of media entertainment. 'Instant Switching' links these altogether in a really fast and fluid interface, by simply saying what type of content you want to consume, or using various multitouch gestures such as 'grab to zoom' or 'swipe to quit.' Interactivity is also in place, with ESPN being used to show a cross-connection between a live game and your fantasy basketball team. Beyond this, they also envision future uses with political debates, award shows, and various other kinds of TV content. The beginning of "truly intelligent TV."
"Xbox One is designed to deliver a whole new generation of blockbuster games, television and entertainment in a powerful, all-in-one device," said Mattrick. "Our unique modern architecture brings simplicity to the living room and for the first time ever, the ability to instantly switch across your games and entertainment."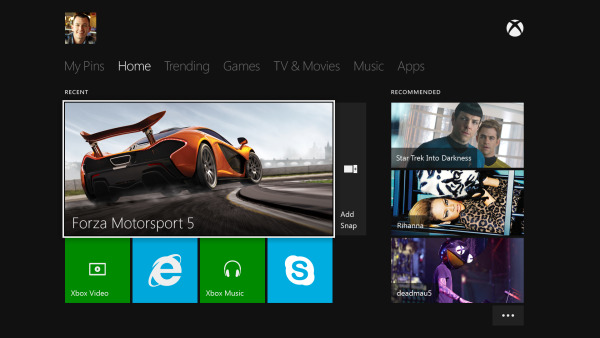 Microsoft has also included it's partnership with Skype by making the voice/video calling software a core part of the experience. This will take pride of place in its own side column as you talk.
Marc Whitten then took the stage to explain the system hardware. 8GB Ram, an 8-core x86 processor, 500 GB storage, Blu-Ray Drive (no HD-DVD Microsoft?), HDMI in/out, 802.11 wireless, and USB 3 power the machine. But what's more interesting is the introduction of 3 operating systems in one. An 'Xbox' OS, a Windows Kernel and a third which connects the two together.
The next generation Kinect sensor comes with the usual suspects of hardware features, including 'time of flight' technology, which measures the time photons bounce of the player back to the camera down to the millisecond. With these, Kinect can interpret Depth, balance, muscle pressure and even read your heartbeat.
The standard controller has been updated too, including an upgraded ergonomic design, built-in wi-fi radio, and added social buttons for connectivity. This, alongside with Xbox Smartglass makes for a Lag Free synergy between the three input devices, all anchored by Kinect.
Of course, with this new level of online connectivity comes a new Xbox Live. Using the power of 300,000 servers around the world, all your data (game saves, music, videos, games, etc) is saved to the cloud, along with an in-built Game video recorder to upload stats and video of your perfect match.
EA Sports are first on the stage, announcing four of their series titles will launch on Xbox One: Fifa, Madden, NBA Live and UFC. These are all built on a brand new 'Ignite' engine, allowing for a far greater AI to enable human-like intelligence. Alongside this, character builds have 10x greater definition, 3D audiences and interactive audio feedback from them, plus exclusive content added on a daily basis. All of this, only on Xbox!
Next up, Microsoft Studios have taken to the stage and announced their work for Xbox One; aiming to make games more immersive, personal, and connected than ever before.
They have introduced Forza Motorsport 5, bringing with it what seems like an unprecedented level of detail! Turn 10 Studios will launch this at launch.
Remedy, creator of Alan Wake, is also joining the fray with Quantum Break, a rather interesting looking concept surrounding the fourth dimension. Not much else was shown besides an oil tanker crashing through a bridge. Microsoft Studios finished by making the pledge to release 15 games for the Xbox One in the first year of release.
Social connected TV is a new frontier being explored by Microsoft with Xbox One. Bonnie Ross from '343' began this trend by introducing the next step to their 'Halo' series 'Forward Unto Dawn.' This Live-action television series, written by none other than Steven Spielberg, is simply named Halo: The Television Series. Definitely taking inspiration from Netflix there!
For the NFL fans out there, they also announced a partnership with the league, presenting exclusive content, rich social interaction, and more fantasy team integration.
Finally, Don Mattrick has announced Xbox One will be launched 'later this year,' and says more games are to be seen at E3. Leaving on a high note by showing an exclusive premiere for Call of Duty: Ghosts. The story is written by Stephen Gaghan, writer of Academy Award-winning 'Traffic,' and begins with America being all-but destroyed. As a member of the Ghosts, you are part of the last remnants of the US military, fighting in guerilla warfare to take back the country.
Of course, a key focus of Call of Duty is the Multiplayer. Dynamic maps make for an everchanging map, either through natural disasters such as earthquakes, or player manipulation. Character customisation is also greater than ever, allowing for changing of faces, clothes, loadout, etc.
And after a world premiere trailer for Ghosts, it was all over. Are you excited for Xbox One? Let us know in the comments.
FAQ
Microsoft has posted an FAQ to answer some of the key questions you have.
Q: When will Xbox One launch and in what markets?
A: Xbox One will launch in markets around the world later this year. We'll have more to share later.
Q: Can I use my current gamertag on Xbox One and will my Gamerscore and Achievements transfer?
A: Yes. Your current Xbox Live Gamertag will stay with you on Xbox One if you choose to keep it, and your hard-earned Gamerscore and Achievements will indeed carry over from Xbox 360.
Q: Will Xbox One be backward compatible with my existing games?
A: Xbox One hardware is not compatible with Xbox 360 games. We designed Xbox One to play an entirely new generation of games—games that are architected to take full advantage of state-of-the-art processors and the infinite power of the cloud. We care very much about the investment you have made in Xbox 360 and will continue to support it with a pipeline of new games and new apps well into the future.
Q: Will Xbox One allow players to trade in, purchase and play pre-owned games?
A: We are designing Xbox One to enable customers to trade in and resell games. We'll have more details to share later.
Q: Will my current Xbox Live Gold membership work with Xbox One or will I have to buy a new one?
A: You do not need to buy a new Xbox Live Gold membership. Your current membership will work on both Xbox 360 and Xbox One.
Q: Why require Kinect with every Xbox One?
A: The all new Kinect is now an essential and integrated part of the platform. By having it as a consistent part of every Xbox One, game and entertainment creators can build experiences that assume the availability of voice, gesture and natural sensing, leading to unrivaled ease of use, premium experiences and interactivity for you.
Q: Do I need to have a specific cable or satellite TV provider to watch live TV on Xbox?
A: Our goal is to enable live TV through Xbox One in every way that it is delivered throughout the world, whether that's television service providers, over the air or over the Internet, or HDMI-in via a set top box (as is the case with many providers in the US). The delivery of TV is complex and we are working through the many technologies and policies around the world to make live TV available where Xbox One is available.
Q: Xbox One is a more powerful product compared to Xbox 360, but does it also use more power?
A: No. By providing multiple power states in Xbox One, we've balanced energy efficiency with functionality. We've taken a completely different approach to how Xbox One consumes power. It only uses the power it needs at that particular moment for the task at hand.